The paper bead jewelry that was developed in Uganda has developed into a popular product around the world.
We started purchasing the beads in Kampala, Uganda and sending them home with friends to give as gifts to those who support the ministries of WGM in east Africa
Production of the Beads
A women's self-help group was started in one of the Kampala slum area by the pastors wife of one of the WGM related Africa Gospel Churches. They began by selling the beads in local craft markets.
The beads are made from strips of paper that are then hand rolled into beads and strung together into unique necklaces, earrings, and bracelets.
A Fair Trade Product
We purchase the beads from these ladies at a fair trade price and make them available to a larger market, and the proceeds help pay for scholarships of orphans and other at-risk children at Kikongo School on Buvuma Island.
Each scholarship for a child costs $12 per month, and this pays for their school fees, a snack in the morning, a hot lunch, and a new school uniform each year.
A Wonderful Partnership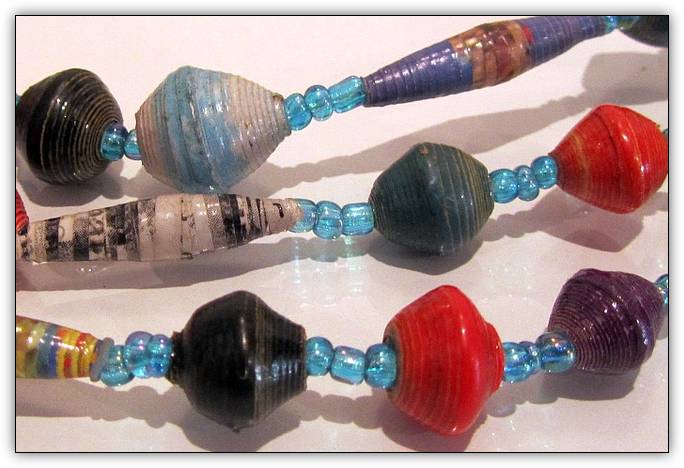 When the women who were making the beads to support their families learned that their bead jewelry was raising money for educating orphans on an island out in Lake Victoria, they were thrilled to know that their work was having a much wider impact than they had imagined.