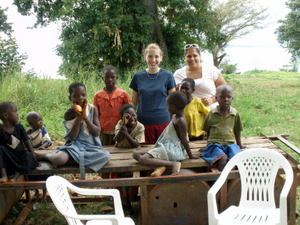 I have been to Buvuma Island two times on two different trips to Uganda, which were two years apart. Both of those experiences were quite different. The two-hour ride on a skinny boat out to Buvuma Island was quite the same both times, beautiful and breezy.
Each time we were greeted by tons of children calling out "muzungu, muzungu (white person)" and lead up a hill to a series of cement buildings. We met Jennifer, the Community Health Director and she talked to us about how she teaches people to be more mindful of basic health, which Americans take for granted.

It's amazing to me the simple things that we have learned early in life, that Jennifer must teach the elders in this community. Things like where not to use the "bathroom" and to boil brown water before drinking it.

Even while walking down the dirt paths in the villages, kids were constantly grabbing at my hands. While it was touching in a sense to feel so wanted, it showed their great need and longing to be loved. It was made clear to me that the school there has a great opportunity not only to love these children, but to show Christ.
About the Author: Jean is a third year Volunteer in Action in Kampala, Uganda.  She teaches grade 1 at Heritage International School and ministers to students at the local university.  When she isn't teaching and loving on children, Jean loves to explore the beauty of God's creation through hiking, geocaching, and traveling.